On the east coast of Ireland, you will find Siddhartha Tibetan Terriers enjoying the warmth of Wexford, having departed the suburbs of Dublin. Our furry speed bumps are always ready and willing to extend a true Tibetan Terrier welcome to anyone who might drop by. Siddhartha Tibetan Terriers are happy to share their house with us mere mortals, and even let us drive them about in their Tibetan Terrier Mobile. Most of you will have heard the saying "Life is Merrier with a Tibetan Terrier" and certainly Siddhartha Tibetan Terriers face the world with humour, attitude, and a zest for loving and living, so prepare to be charmed by the little people, Tibetan Terrier puppies and adults alike.
Please enjoy your visit with us at Siddhartha Tibetan Terriers Ireland and be assured of the warmest of welcomes as only Tibetan Terriers know how to extend.
<![if !vml]>
<![endif]><![if !vml]>
<![endif]>IMPORTANT ANNOUNCEMENT <![if !vml]>
<![endif]><![if !vml]>
<![endif]>
Any dog owners - there's a bad virus going round at the moment, reading about it non stop. Vets are putting out advice as it's spreading really fast and they're seeing an advanced amount of admissions.
Try stay away from parks, don't let your dog drink outside water, puddles etc and not to sniff <![if !vml]>
<![endif]>. And clean your dogs paws after every walk in case they've walked in the virus then catch it when cleaning themselves <![if !vml]>
<![endif]>
This is from a vet <![if !vml]>
<![endif]>
Vets are reporting higher than usual occurrences of gastroenteritis in dogs which is fitting with a wider phenomenon as reported by The Small Animal Veterinary Surveillance Network (SAVSNET). So far we have found that the cases seen- whilst clearly being poorly- have responded well to treatment.
The British Veterinary Association (BVA) advise that with prompt veterinary treatment almost all dogs make a full recovery from this uncommonly violent gastric bug.
How Is This Vomiting Bug Different?
According to Vet Dr Danielle Greenberg of SAVSNET, this vomiting bug is unusual due to:
Prolific vomiting of 5 or more episodes in a 12 hour period which can stop for a period (such as overnight) and then starts again
Dogs are often unable to keep water down at peak vomiting stage
Anorexia and lethargy for 2-5 days
Diarrhoea: Most dogs have 'gravy-like' diarrhoea
Full recovery can take 5-10 days
What We Know So Far:
This outbreak is affecting areas across the Midlands, Wales, the North of England and Northern Ireland
The illness is most likely a virus but has not yet been identified.
Seems to be dog-specific, thankfully humans don't appear to be at risk.
This is not caused by Parvo or Salmonella
Please Sign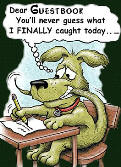 Thank You
Our Guestbook